I have thousands of pictures of the girls, I bet. I hold up my camera, or phone, and Kendall will turn her face, while Sydney drops what she's doing and yells, "CHEEEEESE!" They know by now.
Every single one of the pictures is special to me. I can look back and remember the fun we were having (or the fights they were having), the laughter, the joy. It's almost impossible to pick just one.
This picture though captures the nature of their relationship. It's not perfect. They aren't looking at the camera. But, it's just so
right
for them. It shows the love they have for each other. How I'll try to get them to do one thing, but they just want to stop and cuddle. To me, it shows the love between two little sisters.
That, and who doesn't love little kids in matching clothes? I'm a sucker for it. :)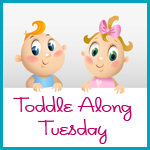 I'm excited to announce that I will be cohosting with
Melissa at Growing up Geeky
next week for Toddle Along Tuesday. The theme will be
bloopers
. Be sure to check back and link up next week!