It happens to the best of us. We are all ready for a photo op. The stage is set. The clothes are picked. The props are ready. You have them all ready to go, lift the camera and then...what??? You look at your LCD screen and chuckle. That wasn't exactly the shot you had in mind. Sometimes those "oops" shots turn out to capture the moment just perfectly.
We took a family vacation to Jamaica when Kendall was a baby. She was playing so cute in the sand. Right as I snapped, the poor kid took a nosedive in the sand. The result? Picture gold.
Sydney was all poised with a heart wreath for Valentine's Day. She was holding it adorably. That is, until it was time for the picture. Then she decided it was better made as a necklace. You know what? I think she is right.
This is one of my all time favorite blooper pictures. This was from our 2010 Christmas card picture attempt. Sydney was smiling away the whole time, ready for her close up. Kendall was a little resistant, but felt the need to give her sister a hug. Right as she did...Sydney had the urge to pinch Kendall's nose and not let go. So, I did what any mother would do.
I took a picture.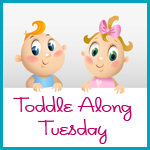 This week's Toddle Along Tuesday topic is
photo bloopers
! Link up the funniest photo of you, your baby, or your pet that you can find! There are no rules except that you link up a post (old or new), that is relevant :)