Naming your child has to be one of the toughest decisions to make during your pregnancy. At least for us. When I first got pregnant, I ran to Barnes & Noble and stocked up on pregnancy and baby name books. Within the first few weeks, I had scoured through the entire book. All 100,000+ names. Let me tell you, there were some doozies out there. Every name, with every possible spelling you can imagine. They'd range from very traditional to very...let's say, unique. Or, if you'd like to jazz up the spelling, younik.
I had a long list going of every possible name I liked. I liked a lot, but did I like them enough for MY baby? That was the tough part. Then, the hardest part was my husband. I had many names to choose from, but every one I'd read off, I'd be responded to with "no. I don't like it." Ok, what do you like? "I don't know, but not that." Sigh.
At 20 weeks, when we found out we were having a baby girl, it made it a little easier. At least I could throw out half of the names, and just focus on the girl names. About 6 weeks before she was born, we were driving home from a wedding, and we both decided we liked the names Kendall and Sydney. We agreed to just wait until she was born, but at least we had
something
to go off of. The whole time, I really thought she'd be a Sydney.
When she was born, I think Eric was a little traumatized by the 26 hour labor leading into a c-section. They placed this sweet little baby in my arms, and I looked up at him and asked what we should call her. He replied, whatever you want! I took one look, and knew she was a Kendall. My Kendall. I realized we never really focused much on middle names. The first name was hard enough to agree on. Puzzled, I looked to Eric and he said, "Why don't we just use yours?" Simple enough. Kendall Lee it was. It fits her perfectly.
With baby #2 on the way, you'd think we'd have the baby naming procedures down pat. Ugh, hardly. This time, I barely even looked until we had the ultrasound to tell us if we needed to look at the boy names or the girls. With it being a girl, you think it'd be simple. We could just use the leftover name from the first time. I still wasn't quite sure. We finally narrowed it down to Sydney or Simone. Eric wasn't 100% sold on Simone, but again left it up to me when she was born. I decided to go with Sydney. I usually am not a fan of using y's in place of a vowel. I thought we'd spell it Sidney, but it looked as if that was the male version. When choosing a middle name, I wanted something simple, and one syllable. We chose my mom's middle name and my great-grandmother's first name. Sydney Rose.
After you decide on a name, there is always that little bit of fear. Did we make the right choice? Will they grow into this name? Will I regret it later? 1.5 and 3.5 years out, I'm still happy with our choices.
Linking up with Growing up Geeky today for Toddle Along Tuesday!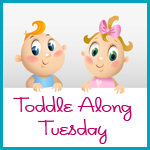 Two little clicks for a vote!