I found these on pinterest and just tried them over the weekend. OMG, sooooo good and easy. My kids always loved the Gerber Yogurt Puffs. I'd have to hid them, or they'd eat the entire bag in one sitting. They both love yogurt, but this way it looks like a treat to them. And a cheap, easy, healthy treat at that. Super easy, and it might be good for me also. :)
I have a confession. I love Spaghettios. Yes, those nasty, canned, full of MSG goodness that you aren't supposed to eat beyond the age of...well, never. Eric is also a fan of the meatball version, and one day gave the kids some. Go figure, they love them too. Kendall would call it sketti and meat dogs? I guess meatballs and hotdogs together? Who knows.
Even though they loved them, and I struggle most days to get the girls to just eat
anything
, I couldn't give them those without some major mom guilt with it. It's one thing for me to eat crap and not feel as bad, but I feel like I should be giving them better. I found this recipe for a homemade version that seems to be a lot healthier. I haven't tried it yet, but it's on the menu for Saturday's lunch. I'll let you know how it turns out. Too bad you can't buy Dora shaped noodles.
Check out the Toddle Along Tuesday blog hop over at
Growing Up Geeky
for more fun baby/toddler recipes.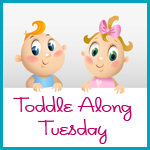 Can you give us a vote today? Thanks!