Loved this game/show. I remember sitting on those big 'ole computers with the floppy disks and playing this game. Then it turned into a TV show and I'd be so excited to watch it after school.
Do you remember these old printers? One thing this paper was great for was printing banners, since the paper was all together. I'd make a banner for every occasion possible. My mom found a huge ream of white printer paper like this that the girls find perfect for coloring. Kendall has perfected ripping off the edges and making accordions. :)
What's cooler than snapping a bracelet onto your wrist? Stumped? Yeah, I can't think of anything, either.
The day we got a weekly reader at school was right up there on my list with the days they'd wheel in the TV for movie days. I would scour that flyer and circle my wish lists of books. Then to sit and wait patiently for my loot to arrive was torture. But, when it did finally arrive....ahhhhh. Heaven.
Love reminiscing with Thinking Back Thursdays? Grab a button and link up!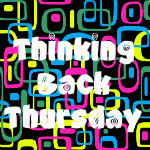 Don't forget to enter in for your chance to win a Target Gift Card! There is only one day left!!