Every week I worry, "Am I going to be able to find anything for next week? Surely I've got to run out sooner or later!" Who am I kidding, the interwebz are fabulous for keeping me entertained as I search for the next flashbacks. :)
Friendship bracelets. This was the true testament of friendship right here. If you were really popular, you'd have multiple bracelets. I remember getting all of my yarn ready and taping it to the table. You'd get so skilled at it, you could talk all about your huge crush on JTT while whipping these bad boys out.
Ahhh....JTT. Too bad he quit growing at the age of 12. He was totally swoon worthy.
OMG, I'm pretty sure this stuff was canned heroin. Wait, does heroin make you all hyped up? Hmmm...I am losing some street cred here. Well, as much street cred as a CPA mom of two in small town MN could have. Anyway, this Surge stuff was good.
Ah, candy cigarettes. Now, why wouldn't it be wonderful to market a highly addictive cancer stick to young children? They were even great because the tips were red like it was lit. I'd puff on these bad boys and blow out my fake smoke rings like the best of them. I should have asked Santa for one of those fancy cigarette holder things like Cruella DeVille had.
Love reminiscing with Thinking Back Thursdays? Grab a button and link up!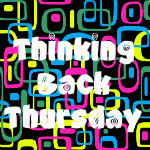 Can you spare two clicks for a vote? TBB has been reset and I'd love to get a good ranking. :)
Don't forget to enter in for your chance to win a
Target Gift Card
!