First of all, I missed a few weeks of this. Why does life insist on getting busy for me? ;)
I loved these little lunchboxes. I still remember my favorite lunch to date, is when I got to bring Spaghettios in my thermos for lunch. They actually stayed warm! Now, don't go hating on my Spaghettios. Some may think they're disgusting, but that's just foolish talk to me.
Seriously, what was better than this day?
I had totally forgotten about this show!
Love reminiscing with Thinking Back Thursdays? Grab a button and link up!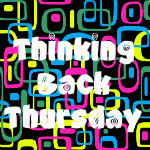 Can you spare two clicks for a vote? TBB has been reset and I'd love to get a good ranking. :)