You have to check out all of these awesome February sponsors. There are some amazing blogs here! :)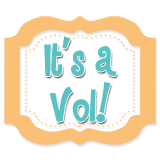 It's a Vol!
Two parents. One baby. Four dogs. Two cats. One small house. Welcome to our world.
BLOG
FACEBOOK
TWITTER
Home for Three: The Story of a World Changed by One Tiny Addition
The adventures of a little boy named Charlie with a dash of crafts, recipes, and my best attempt at home making.
Courteous Curtis & The Parents
Hi, I'm Chelsey! I am the main writer on our family blog, although I"m sure our son would love to type on my keyboard! Our blog is a journal about family memories, sharing recipes, trials of trying to conceive baby #2, sprinkled in with some random (and most likely embarrassing) stories of my attempt at being a stay at home Mom.
BLOG
FACEBOOK
My Attempt At Motherhood
Hi, my name is Andrea! I blog over at My Attempt at Motherhood. Mama to Quinn (girl version) and wife to Anthony. I started blogging to chronicle my first year of motherhood and all of the moments I would surely forget. I could barely remember my own name, much less my daughter's first month stats, so I figured I would put it all down on paper (keyboard?) My journey through motherhood, wife-hood and trying not to be a 24/7 hot mess.
BLOG
FACEBOOK
TWITTER
Can you spare two clicks for a vote? TBB has been reset and I'd love to get a good ranking. :)