On Saturday, I took the girls to the bowling alley. We met up with two of my friends, and their kids. There was a Bowling for Babies fundraiser for the March of Dimes, so we figured it'd be a good cause and fun for the kids.
Sometimes, the visions of how these events will run in my head don't always play out quite the same. I should have known when Sydney took off running down the lane, to use herself as a ball that I might be in trouble. After my little sprint, I found Kendall rummaging through the bake sale items to get the monster cookies. As she was opening the ziploc bag to try to get a treat, I figured it'd be easiest to just buy the darn things. The kids were hit or miss with the bowling. One minute they loved it, the other they were running around the joint. I'm sure the two people a few lanes down loved the 3 year old sprinting in front of them. ::sigh::
I haven't uploaded my pics from the day, so here are a few that I got with my cell. The little ramp was great for them, and little Miss Sydney even got a strike! She didn't really get it, but went along with the rest of us and started clapping for herself. :)
There was a silent auction, and best of all a face painter there! The night before, Kendall told me she wanted to get a green cow on her face. I should have known she'd try to put her favorite color and animal together. lol Luckily, she saw another little kid and changed her mind to a pink cat. This picture is post lunch-time pizza, so part of her mouth is gone. Still adorable, nonetheless. :)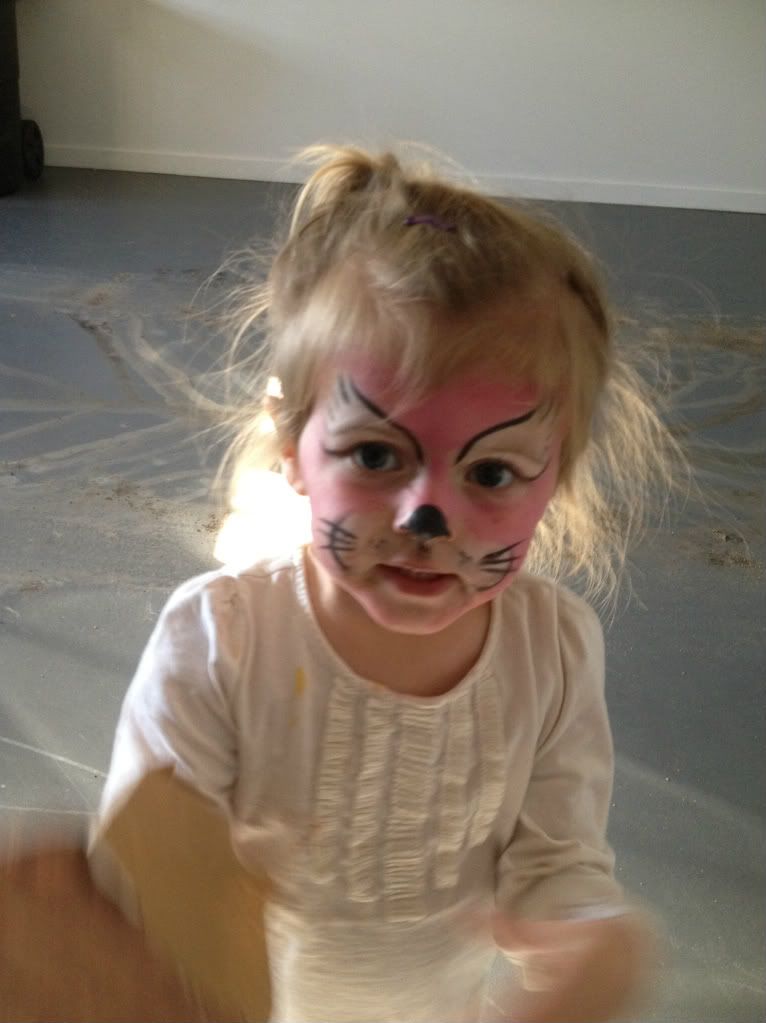 Ok, now this picture doesn't fit into our bowling event, but it was too cute not to share. :) Sydney was reading books to her baby during the Superbowl last night.
Don't forget to enter in for your chance to win a Target Gift Card!
We're slipping in votes! Please click the banner twice, and vote daily!