Meet Sydney Rose:
Hi, I'm Sydney! I am almost 16 months old already and according to my mommy am the cutest little girl (along with my big sister) that she's ever seen. I don't say many words yet, but I can tell you a thousand stories with my facial expressions alone. Mommy got a little spoiled with my big sister, who liked to sit and read books. I wanted to show her what it's really like to have a toddler. I love to run, climb, get into cupboards, dance to Kendall's songs and play hide and seek in my closet. I'm a little bit runty, but in case you haven't heard, the best things come in small packages!
Meet Kendall Lee:
Hi, my name is Kendall! I like to dance! At least that's what I love to sing, just like my favorite cartoon, Yo Gabba Gabba. You already met my little sister, so let me tell you a little bit about myself. I love to sing and sing and sing. The world is my stage and I love to put on a show for everyone. I have a whole box of princess clothes, and I feel so pretty in them. I have so many stories that I tell my mommy and daddy every day. Mommy says I never stop talking, but I just have so much to tell her about what I notice in my world. I just got my big girl bike back, because I'm finally using my potty chair all the time. My Dora panties are a pretty big deal in this house. Now mommy says I can train Sydney since I like to teach her all of my tricks.
My loves. ::swoon::


Check out more Toddle Along Tuesday posts at Growing Up Geeky!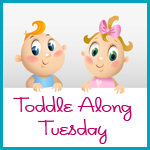 Now that you're all caught up with my little ladies, how about 2 little clicks for them?